There's Water Coming From Your Range Hood
The purpose of the cooker extractor hood is to suck up the steam and odours emitted when you cook your food. Any of several different parts and components can be the cause when water starts dripping from its filters. Here we're going to help you get to the bottom of this problem.
THE POTENTIAL CAUSES FOR THIS ISSUE:

WARNING
Before you do anything to your appliance, make sure you disconnect it from the power supply.
There is a risk of electric shock.
Wear suitable protective gloves if you need to dismantle anything.
There is a risk of getting cut or injured.
The hood has not been installed correctly
When you purchase a new cooker hood, it's absolutely imperative that you install it in accordance with the recommended guidelines. The efficiency of a cooker hood depends to a large extent on how well installed it is. For it to work well and properly suck up the vapours produced by cooking, a cooker hood needs to be a little larger than the total surface area of the hob. The height at which a hood should be installed is dependent on the hob fuel type: it must be a minimum of 65 cm above an electric hob and at least 70.75 cm above a gas hob. A cooker hood that's too high won't work as efficiently, while one that's too low could prove dangerous. If these installation guidelines are not followed, there is a risk that excessive steam will be produced, leading to water dripping from the hood.
The hood is positioned in an inadequate location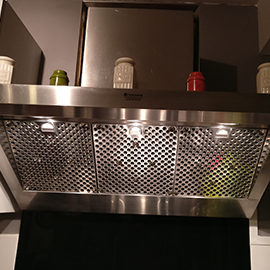 When installing your cooker hood, it is best not to position it squeezed in between two kitchen units. Any units close to the hood will accumulate condensation and obstruct the air circulation around the hood. This will lead to condensation building up and water dripping/running down, and will almost certainly cause damage to your units into the bargain. Additionally, avoid cooking when the room is too chilly: the difference in temperature between the air in the room and the metal of the hood, which will be heated by the cooking, will create a huge amount of condensation and, as a consequence, water.
The external vent is not fitted with the right equipment
On ducted extraction hoods, the air that gets sucked up ends up being expelled to the exterior of the building. If the external vent is not equipped with a non-return valve, the wind outside could blow cold air into the duct in the wrong direction. This will cause condensation to build up, which will end up dripping onto the extraction hood's motor, its filters and, finally, your hob. We recommend you avoid installing the external vent for your cooker hood in a north-facing position, and we advise you to fit an external flap valve or a non-return valve.