A cooker hood is a very useful kitchen appliance that sucks up bad odours when you're cooking, as well as grease, moisture and other residual substances. Over time, cooker hoods can sometimes start to make a lot of noise. Here we help you find the cause of this issue.
THE POTENTIAL CAUSES FOR THIS PROBLEM:

WARNING
Before you do anything to your appliance, make sure you disconnect it from the power supply.
There is a risk of electric shock.
Wear suitable protective gloves if you need to dismantle anything.
There is a risk of getting cut or injured.
The choice of cooker hood is a determining factor
Not all cooker hoods operate at the same speed and power or produce the same level of noise. Some high-performing ones can be very noisy. It's important to choose the right hood if you don't want to be disturbed by the noise. These days, noise levels are indicated in decibels (dB) on the energy labels provided with appliances. This means you can compare different cooker hoods and choose the one that offers the best compromise in terms of extraction power and decibels produced.
The non-return valve has come loose
Most cooker hoods are fitted with a non-return valve that prevents the expelled air from re-entering. From time to time, this valve may produce a clapping sound. This can be caused by grease or general wear and tear, or can be due to the valve not being installed properly. You can check this component yourself. It will be located at the point where the air exits the hood. If the valve is moving too freely and producing a noise, one thing you can do is apply a piece of blu tack (or similar) to dampen its flapping movement.
The carbon filters are worn out
Active carbon filters, as used on recirculating type hoods, should as a general rule be replaced once every three months. If these filters get too worn, they can crack and may allow small pieces of carbon to pass through. These pieces of carbon will then end up generating noise, similar to the way small pebbles do when shaken in a box. If the filters are damaged, we recommend you replace them.
Purchase a carbon filter for the extractor hood
The impeller is not tightly screwed on
The impeller bolts onto the motor spindle and will normally be made from plastic. Impellers can sometimes end up rubbing against a foreign object, or they can simply break. If either of these things occur, it will generate a lot of noise. Check the general condition of the impeller, and also make sure the bolt that holds it in place is properly tightened.
The motor casing/mounting is cracked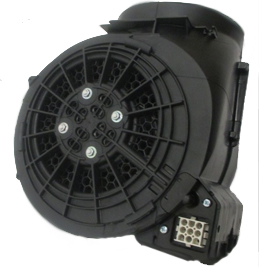 The motor casing/mounting will normally be made from plastic, and this plastic can crack or break. When this happens, the motor won't be held in place properly, causing it to move around and make a lot of noise when the hood is operating. It may bang against the hood's metal casing or rub against the impeller, which means there's a risk you could hear a loud vibrating sound. You can check the condition of the motor casing/mounting yourself; it's usually possible to see them using a torch.
The extractor fan motor is rusty
The extractor fan motor enables the cooker hood to extract the air from the room. If the motor becomes rusty due to moisture, or gets damaged by grease build-up, it will not be able to run properly, causing it to produce a loud whirring sound. If this occurs, replace the motor.