Repair your own appliance with the help of our guides
Thanks to SOS Parts, fixing your own appliances has never been easier. Discover our extensive range of tips, tutorials and videos and find the exact part you need at the very best price.
1 - Diagnose the issue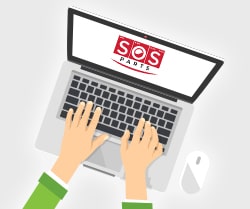 Find the source of the issue with the help of our troubleshooting guides

Has your appliance developed an issue and you're unable to find the cause? SOS Parts gives you access to an extensive range of guides based on the main symptom you're encountering (appliance not switching on, not heating up, etc.).Search through the range of different symptoms in the 'Troubleshooting Guide' section to find the one that matches the issue you're experiencing. Once you've done this, all that remains for you to do is check through the various potential causes, which are organized in order from the most frequently occurring to the rarest and carry out the tests and checks. When performing the tests, it's a good idea to have a multimeter available: a multimeter is a small measuring device that can be purchased for a few euros at any good DIY shop.
2 - Identify your appliance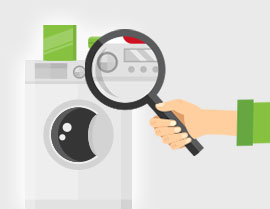 Identify your appliance using the brand and model name/number

Once you've found the part or component responsible for the issue, all you have to do for you to do is order it online on our website. However, you need to ensure you've definitely found the exact match for your appliance. To do this, examine its identification plate. This is where you'll find the appliance's model name/number and serial number. These two pieces of information are essential in ensuring the part or component is fully compatible with your appliance. Once you have this information, all you need to do to find the parts you require is enter the appliance brand, type and model in our search engine And if you can't find your particular appliance or the part you require, just contact us for a quote.
3 - Order your part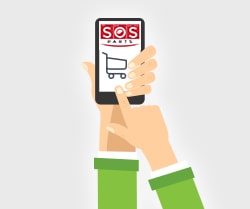 Order your parts online and receive them in no time

Order your part in just a few clicks using a PC or laptop, tablet or mobile phone. You will receive the part within 3 working days for European delivery. Delivery is free of charge for orders over 39€ that delivered to the UK. Find out more about our return and delivery policy here.
4 - Fit your new part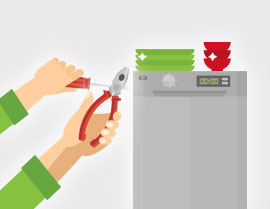 Fitting your new part yourself is easy with our help !
Once you've received your part, all you need to do is to install it in your appliance. SOS Parts is still here to help you with this final step. We provide troubleshooting guides, our YouTube channel for tutorials and information to maintain your appliance.